Welcome to The Golden Ratio Wiki!
[
edit
|
edit source
]
Your favorite golden retrievers (plus one Labradoodle) - Hopper, Venkman, Maggie, Jasmine, Queso, Riley, Swizzle, Guacamole, Chief Brody, Voodoo, St Patrick, Parmesan and Manchego - the Golden Ratio!
The Golden Ratio is a group of fantastic golden retrievers owned by Dr. Jen Golbeck (aka GR Mom) and Ingo Burghardt (aka GR Dad). They were originally based in the Washington DC area in the United States, but have begun shifting to their home in the Florida Keys. GR Mom, GR Dad, and the squad are present on many different social platforms, including Twitter, Instagram, Snapchat, YouTube, podcasts, and TikTok.
The original Golden Ratio included Hopper (aka Hops, Hopper T), Venkman (Venk/Vink/Vonk, Vink the Dink, Agent of Chaos), Maggie (Schmieg/the Schmiegly one), and Jasmine (The Finest Dog I've Ever Seen), and was expanded to include Queso (the Big Cheese), and their first boy, Riley (Boyfren).
As of April 2021, the Golden Ratio includes Hopper, Venkman, Guacamole (Guac, Guaco-man), Chief Brody (CB, CBGB), and Voodoo (Voods). Four other dogs have also joined the Squad after Riley, but have since passed away: Swizzle (The Swiz), St. Patrick (né Theo; the only non-Golden Retriever), Parmesan (Small/Little Cheese), and Manchego (Cheggs, Cheese Cube.)
All of the dogs except Hopper and Venkman were rescues. Particularly in recent years, the household has specialized in taking in senior dogs and dogs with serious medical conditions.
The dogs are famous for their affinity for waffles and carrots. Their carrot preferences were previously categorized into just two "teams"--cronch (regular, uncooked carrots) and roasty (roasted in the oven)--but team designations have expanded with both diverse diets and selected behaviors. Additionally, GR Dad in particular has been known to give roasties to members of Team Cronch because he is a softie--a "roasty of a human."
| Team | Dogs |
| --- | --- |
| Crunch (aka Team Cronch) | Maggie, Hopper(pre-2020), Venkman, Guacamole, Chief Brody |
| Roasty | Queso, Jasmine, Riley, Hopper (for awhile in 2020), Swizzle, St. Patrick (small portion) |
| Chaos | Venkman, Guacamole, Voodoo, Chief Brody |
| Foreign Object | Queso, Guacamole, Voodoo |
| Thief | Riley, Swizzle, Voodoo (although mostly from the recycling bin), Chief Brody[1] |
| Can't have carrots | Voodoo (eats a "meat carrot" or turkey slice instead); Parmesan; Manchego (not in line with his diabetes management) |
Current (Squad 2.6 - Version Numbers available here)
Angel Dogs
Pi (GR Mom's pre-squad dog)
K (GR Mom's pre-squad dog)
Other dogs and dog pages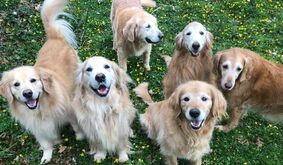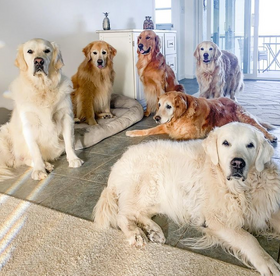 Community content is available under
CC-BY-SA
unless otherwise noted.