Your favorite golden retrievers (plus one Labradoodle) - Venkman, Hopper, Maggie, Jasmine, Queso, Riley, Swizzle, Guacamole, Chief Brody, Voodoo, St Patrick and Parmesan - the Golden Ratio!
The Golden Ratio is a group of fantastic golden retrievers owned by Dr. Jen Golbeck (aka GR Mom) and Ingo Burghardt (aka GR Dad). They were originally based in the Washington DC area in the United States, but have begun shifting to their home in the Florida Keys. GR Mom, GR Dad, and the squad are present on many different social platforms, including Twitter, Instagram, Snapchat, YouTube, podcasts, and most recently, TikTok.
The original Golden Ratio comprised Hopper (aka Hops or Hopper T), Venkman (aka Venk/Vink/Vonk, Vink the Dink, Agent of Chaos), Maggie (aka Schmieg/the Schmiegly one), and Jasmine (The Finest Dog I've Ever Seen), and was expanded to include Queso (and her face-o in the place-o; aka the Big Cheese), and their first boy, Riley (aka Boyfren).
As of December 9th, 2020, the Golden Ratio includes Hopper, Venkman, Guacamole (aka Guac, Guaco-man), Chief Brody (aka CB, CBGB The Big Chief), St. Patrick (né Theo; the only non-Golden Retriever), Voodoo (Voods) and Parmesan (aka Small/Little Cheese) This grouping, along with Swizzle, is sometimes referred to as Squad 2.0, to differentiate them from the earlier group of dogs present during/shortly after the start of the Golden Ratio accounts.
The dogs are famous for their affinity for waffles and carrots, and can be identified by their allegiance to treat types.
Team
Dogs
Crunch (aka Team Cronch)
Maggie, Hopper(pre-2020), Chief Brody

5/31 edit: GR Dad is a softie and all dogs are actually fine with cronches

Roasty
Jasmine, Riley, Hopper (2020), Swizzle, Guacamole, Chief Brody
Chaos
Venkman, Guacamole, Voodoo
Foreign Object
Queso, Guacamole, Voodoo
Thief
Riley, Swizzle
Current (Squad 2.0)
Angel Dogs
Other dogs and dog pages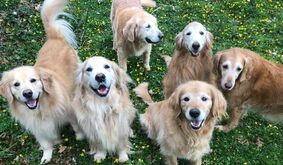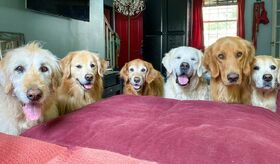 Community content is available under
CC-BY-SA
unless otherwise noted.